Up front: This game just doesn't matter like it used to matter.  The curiosity is the new coaching staff on both teams instead of nabbing the early season SEC lead and inside track to the MNC game.   This is the tale of two programs, both searching for identity, and the hopes that one will rise from the joust of this game.
Kentucky beat those Gators fair and square after 31 attempts.  It even happened in the Swamp.  This snapped the longest losing streak of major program's in the country, and has caused a melt down of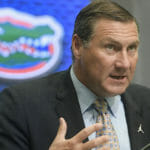 the UF fan base that is about the most unwarranted maybe ever.   Looking at the box score, what IS apparent is that UF had a lot of trouble running the ball.  Their leading rusher was their QB Franks who ripped 44 yards on 11 attempts.  Some of those were designed plays while others were scrambles.  Though this may indicate troubles on the line and in the backfield, it's my opinion it's neither.  Something UF fans and SEC East followers alike need to consider, as unlikely as they want to believe, Kentucky is plain and simple just that good this year.
The Eye Test is much more valuable this time of year than statistics.  The 'eye test' told me that Florida is a physical and just plain nasty team to engage.  The receivers fight like the wildcats that beat them for every yard after catch- and the collection of 223 of those isn't something to sneeze at.  They will destroy lessor defenses, especially as they find their groove and rhythm while the season progresses.  Mullen handled the presser well stating, in short, that "whether we win or lose the same issues witnessed will still need addressing".  That sounds like a Captain Obvious statement but I'm thinking it's something many fans miss- it's certainly something that separates great coaches from mediocre ones, who just 'try again' next game.  It's all about growth and development for teams like the Gator's, and they've got a good director and 'good enough' components.  Next week and the one leading into the UT game, they're going to look a lot different.
Tennessee flat out mopped the deck with their northern brethren.  ETSU is led by Sanders, who was once a QB and OC for the Vols.  He was not appreciated too much in that capacity, as he was just not the caliber expected.  At ETSU he may have found a place to practice, but…. He's just not that good.  Tennessee exploited that and rolled them.
What I witnessed watching that game, even though the final board read 59-3, is a UT team with a LOT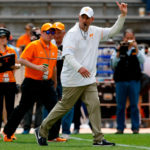 of problems, and every one of them starting on the line.   When UT's OLine can't open lanes against basically a newly fielded team's DLine, and when the DLine can't get a surge into the backfield of that same team's Offense, there is a problem.  Man, are there problems.  So it was the first outing of this collection of OLine after losing the starting center.  So it is exercising the bench before their time.  This was a major SEC power of years past Line, on both sides of the ball, being handled by a team without a single rated star player on their roster.
On the bright side, the secondary proved that it can tip some passes.  I'd like to report those passes were strikes, but they were wildly inaccurate from the Bucs QB and thrown with some measure of abandon more than regularly. Still, the defensive backfield did what they were supposed to do, and the game did what it was supposed to do which is to give the team some confidence.
Also a bright spot for the team is the play of both QB's.  JG looks a lot better than he did last season, and he is checking receivers as is expected.  The RB's and receiver corps play with moxy- especially the young back Banks.  He's got a hard head and a set of pistons down below to churn into the secondary.  The receivers are fast and have sticky hands, and seem to follow predictable (for the QB) routes.  If the OLine matures miraculously over the next two weeks, these guys can keep UT competitive.
The prism I like to look through that has consistently offered me insight see's two teams much differently than is reported.  I see UF as a team with not near the issues presented by the UK loss, and with possibility of competing against anyone in the East once they gel.  I see a UT team with issues on the most important layer- the line, and with little hope of recovering that until they are re-outfitted in coming years.  There is a week of competition between these two before they meet, and there are certainly things that can be improved for both- but the greatest margin of possible improvement belongs firmly to Florida, in my humble opinion, and why I think they'll own the game with Tennessee by at least three scoring opportunities.  And that is that.
Thank you for reading the article here!!! Please follow the links to the source article to demonstrate our appreciation!!!